Dear
Runner's Gait
,
I am writing in somewhat belatedly to thank one of your staff members - I think his name is James.
A couple of months ago I wandered randomly into your store for a new pair of trainers, and James very patiently helped me try on eight pairs. Eight. EIGHT!!! (It's lucky, right?) I felt like Goldilocks (too hard, too soft, too...erm... too tippy, too high, too hard, too soft, just right) or Cinderella ('if the shoe fits...').
Finally I settled on this pair of Saucony Fastwitch 5. (They're red - that should do for Chinese New Year shopping. I did wear them for the first run of the Chinese New Year. Which did not appease my mother at all.)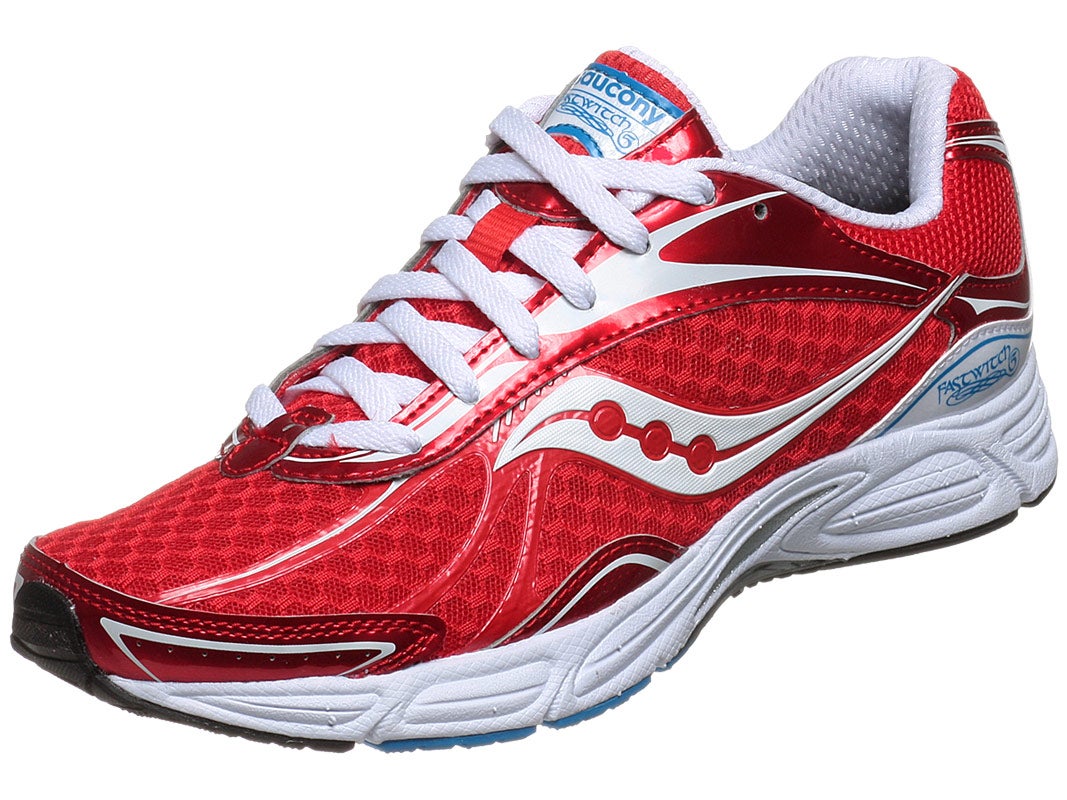 As we already know, I like being able to feel the ground (check), and I am the Switzerland of neutral runners (check).
It turns out Saucony apparently thinks these are a racing flat. I don't. They're not flat. But then I'm not fast either...
(Funny story. I just bought a new running shirt. It's black and says 'FAST' on the front in an alarming shade of pink. I don't think I deserve to wear it yet, so it's sitting in my closet gathering dust.)
I had a few niggling doubts about this pair of shoes at first. Not as low to the ground as my Minimuses/minimi/ minimodes. Not as plush and cushiony as my Nikes. A little hard and bouncy. But after Sunday's triathlon I think James made the right call - I think they're finally broken in. On the run leg, my shoes and I managed to pass - I think - every woman in my category who was a passable distance in front of me. (That's about five women over 5 km. Also some men who were walking - what were you doing?!?!?!?)
I'm still a slowpoke but I'll be doing nearly all of my marathon training (except for the longest weekend runs - need a bit more cushion for that) in these.
See you on the trails,
G.C
PS please give James a promotion.
PPS or at least a medal for persistence. But watch out: I'll be back for new shoes. He might want to hide.
Workouts this week. Marathon training week 1: upping the mileage a little.
Sunday: TRI day. 750m swim (terrible), 20km bike ride (terrible), and 5km run (29:23), dawdling through transition, going the wrong way to run out and turning around to run out another way. Pro-tip: Do not train for a tri by spending 3 months chickening out of swim training, cycling only twice, and doing no bricks ever.
Monday: 7.5km recovery run
Tuesday: Speedwork: 2km at 2:15, 1.6km at 2:10-2:12, 1.2km at 2:05, 400m (1:57). Total incl warm-up 6km.
Wednesday: easy day. 9.5km/ 59:15